My visit to Dreher Park South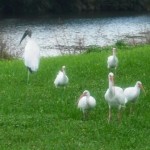 One of my favorite parks in West Palm Beach is Dreher Park.
Today I visited the south end which is across from the Palm Beach Zoo. Very conveniently located right off Summit Blvd.,  just east of I-95 and stretches from Southern Blvd south to Forest Hill Blvd.  This large regional park is named after Paul Dreher, the City's first Parks Director.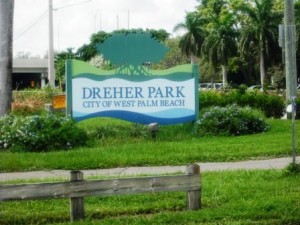 Upon entering the park, you will notice an abundance of ducks and a variety of birds enjoying the lake.
Benches are near the lake inviting you to sit and relax, while being entertained by the many birds frolicking in the water. Great for children of all ages, they will love watching birds swim in the lake. Of course, parents should keep a close eye on the young ones anytime water is nearby. Also a  good place to do a little fishing.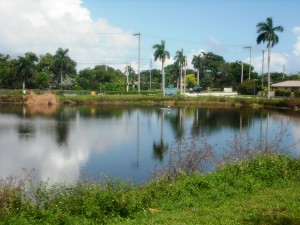 The pictures taken are of the lake facing Summit Blvd. as well as the picnic pavilion close by.  Several large trees offer shady area for children to play and there is a fence all around on both sides of the street for safety.
A good size sidewalk suitable for walking, jogging or bicycling, takes you all the way around the park. A great place to come and ride bikes with the family. However always be mindful of other people on the path and proceed with caution whenever passing a walker or another bicyclist. Many people today use headphones and may not be aware of someone coming behind.
As you continue around the park, the heart trail offers multiple stations where you can stop and do a little stretching, sit ups,  jumping jacks or whatever else is being displayed. Just remember not to overdo especially if you are a beginner.
Throughout the park you will find multiple parking areas and several picnic pavilions.
A little further out, you will notice a large field suitable for soccer or anything that requires a large empty field as well as a playground with swings and play structure.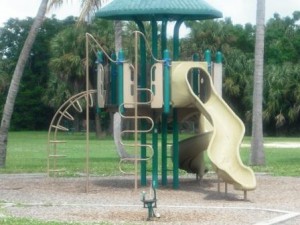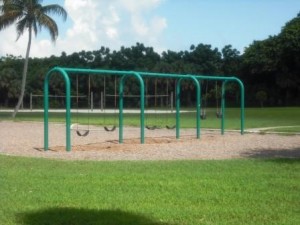 Toward the south end of the park you will find a sidewalk with several little fire hydrants painted in different doggie designs. Very well done and kind of unexpected and amusing for children which leads you to the dog park.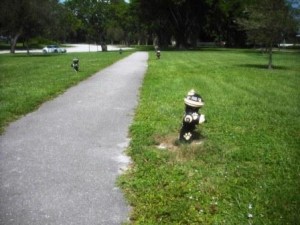 There you find a designated area for both small and large dogs.  Very nicely done and fenced off with gates for easy access.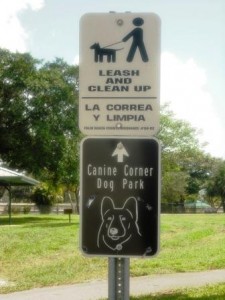 One side is for dogs 25 lbs and over and the other side for dogs 25 lbs and under.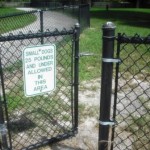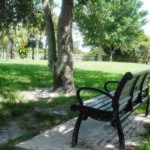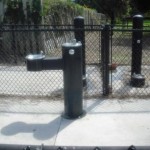 Many shade trees, benches and tables are available for you while you wait and there's even a tunnel for your dog to go through.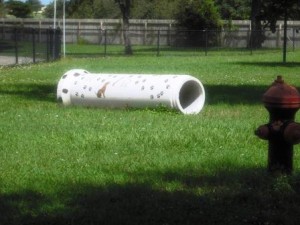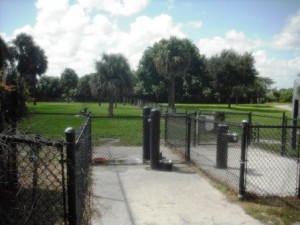 You are asked to clean up after your dog and they have proper container nearby. There's also a cooling station for dogs as well as water fountains for people.
As you leave the dog park area, you continue down the sidewalk/heart trail and you will notice the main picnic pavilion.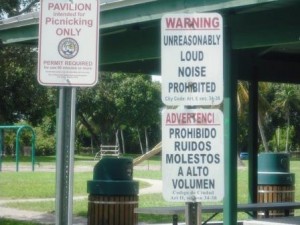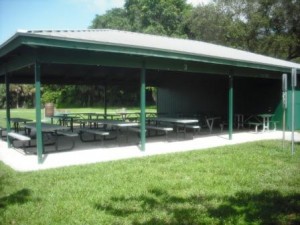 Lots of tables, grills, water fountain and the playground is close by as well as volleyball nets. Conveniently located right next to the pavilion are the restroom facilities. So basically everything you would need for a nice church picnic or family event. Of course, you supply the food and the fun! Please check out rental fees information on sidebar or under top menu  for this park.
Just keep in mind the rules and be respectful of everyone else in the park.
As you keep going past this main pavilion more toward the center of the park, there is another lake suitable for fishing, with benches and a very serene and relaxing feeling.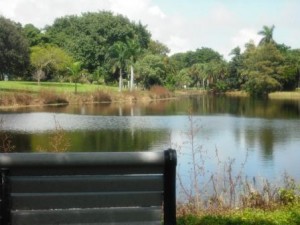 However beware, the sign posted warns you that dangerous creatures may be found in the water.  By that I mean alligators! Now whether or not alligators are present, I'm not certain but at least let's keep that in mind.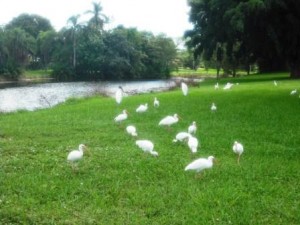 The park has several separate parking areas located near the specific venue of interest.
Please be aware that in some areas there may be ants present as this happened on my recent visit and soon realized that I should have worn something other than sandals.
As you make your way back toward the front entrance, again you will find another lake with so many birds hanging around. They just seem so friendly and almost expecting some treats from passerby.
Overall, I would highly recommend this park.  Our family spent many hours riding our bikes here and rode across Summit Blvd. onto the other north side which is just as beautiful.  I will visit the north side soon.  So, if you're new in the area, this park has lots to offer so check it out. And if you've lived here all your life, then you should already know this is a great park. Again, Dreher Park is one of my favorites!