Westgate Community Farm
1130 Wabasso Drive
One block south from Okeechobee Blvd
West Palm Beach, Fl 33409
Season Opening Saturday, October 2023
Saturdays: 9am to 1pm through May 2024
The Westgate Community Farm grows organic fruits and vegetables, improves access to fresh, affordable produce in the neighborhood and provides meaningful educational opportunities on the farm for people of all ages.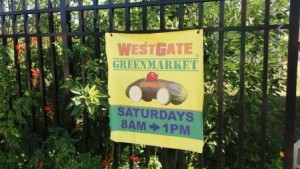 Funded by the Westgate CRA, The Westgate Farm Stand sits on 1 acre of land where organic fruits and vegetables, fresh herbs are grown and sold weekly. Residents participation is encouraged with plenty of volunteer opportunities. Volunteers are welcome and volunteer groups can join them on the farm each Saturday from 9 am-1 pm. Please bring a water bottle and wear closed toe shoes.  Interested volunteers can contact Aviva Asher (863) 417-5479. Every week, several local vendors sell crafts, prepared foods and preserved foods. Westgate Farmers Market is currently seeking local food and craft vendors.
They accept cash and SNAP/ EBT at the market. Customers using SNAP receive 50% off every purchase of Florida grown fruits and veggies as part of Florida's Fresh Access Bucks program!
Westgate Greenmarket open Saturdays from 9am to 1pm and Thursdays from 2pm to 6pm with Greenmarket Express Truck bringing fresh produce to Westgate residents.