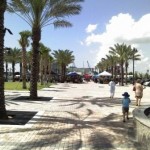 190 East. 13th Street
(south of Blue Heron Blvd)
Riviera Beach, Florida
Hours: Saturdays 10 a.m. to 3 p.m.

The Riviera Beach Marina Greenmarket  – Tiki Market recently opened July 9th, 2016 with plans to keep it open all year long but usually closes during the hottest months. Very lively and unique open air market with island style music and vacation style atmosphere. You can shop for fruits, vegetables, specialty foods, baked goods, juices and smoothies, honey, jams, arts and crafts, plants, jewelry and so much more.  Please use CDC guidelines and stay safe.
Interested vendors can apply at HarrysMarket