As we progress toward a world with reduced emissions and air pollution, electric vehicles are being accepted as the future mode of transportation by a large part of the population. The electric automobile market is moving rapidly with new options. Tesla has been the leader in producing EVs in large quantities and now, it's easier to find one for just about anyone and the prices are becoming more affordable to consumers. Several automakers are coming out with EVs with a range of 300 miles or more on a single charge and with 250 and 350 horsepower.
Today most full charge EVs will give you 200 to 250 miles at highway speeds. There are many options for charging your electric vehicles. Most people can install a level 2 station at home and your vehicle can be charged overnight. It becomes a habit just like charging our cell phones. Depending on which EV you drive and where you live, you can plug in any EV in any standard wall outlet if you are not in a hurry. This is very slow level 1 and depending on your battery, can take between 8 to 10 hours for a full charge.
Another possibility is to install a dedicated 240 volt home charger for your car and and charge it much quicker. Unlike the Level 1 chargers that come standard with the EV, this is a Level 2 charger, which is much faster – it gives you a full battery in about 5-6 hours.
There are numerous residential EV charging stations to choose from, in stores like Home Depot or online. Prices range from $360 – 1,000 for the charger itself. The price that most people pay is $500-650. You can either install the station yourself, or hire a pro for about $450-550. The average reported total cost for a home EV charger is around $1,000-1,300.
More powerful EV charging stations are located throughout PB County and are expanding rapidly.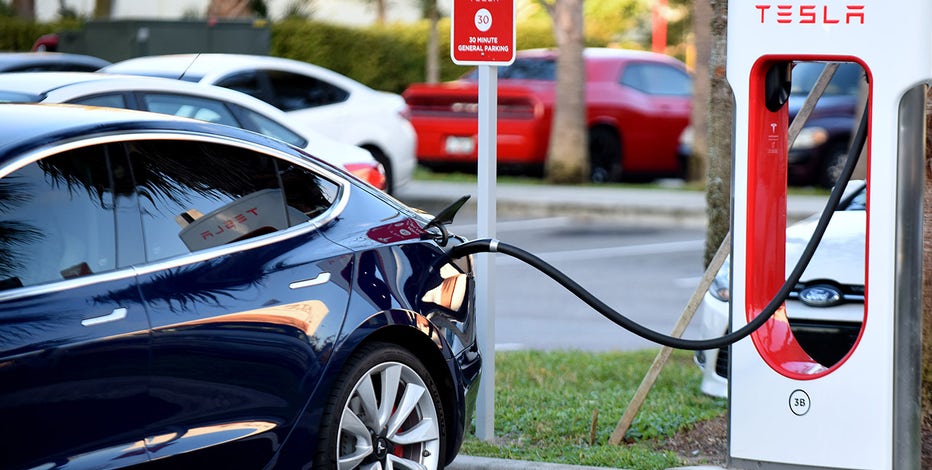 Over 80 percent of public charging stations are called level 2. They are fast enough to charge most EV's overnight and they are compatible with every EV on the market today. If you are looking for an even faster charge time, you will need to plug into a level 3 station known as DC fast charger. The Supercharger stations can only be used for Tesla. Most DC fast charging stations can charge your EV in the time it takes to have a meal.
There are several charging networks available today in the US, some more reliable than others and the list will most likely grow with time. Tesla, Electrify America, ChargePoint, EVgo which partners with Tesla, Blink Charging and EV Connect. Here in PB County, Tesla, ChargePoint, SemaConnect and Blink operates about 20 stations at the time of this article and more will be added as more demand is expected in the near future. Some stations operate on membership sign up while others are either free or as determined by the property owner where the station is located. In the next few years, we can expect that many gas stations will also offer EV charging stations to their customers as the public becomes more comfortable purchasing electric vehicles.
Look below for a map of Electric Vehicles Charging Stations in Palm Beach County.