6566 N Military Trail
West Palm Beach, FL 33407
(561) 842-8756
2023 Season now through November 26

For a totally awesome day, come visit Rapids Water Park where there is an abundance of rides for the whole family. With over 35 slides, a 25,000 sq. ft. wave pool  and a 1/4 mile lazy river.  One of the newest ride is the FlowRider, a continuous, simulated wave system that moves 30,000 gallons of water per minute.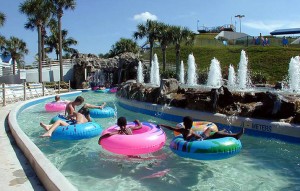 Riders take turns in the curl riding waves over a fixed surface at 35 mph.  From some of the wildest and scariest water rides that takes your breath away to the milder and more relaxing ones, you can find the one that will suit your style.  Always look for the different weight and height restrictions for each rides as well as the swimwear requirements.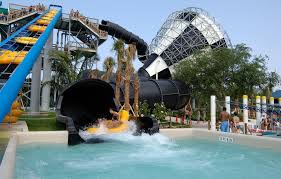 Rapids Water Park also has a store where you can purchase supplies from towels, swimsuits, flip flops, rashguards as well as the all so needed suntan lotion.
Also very popular is 'Big Surf Cabanas' where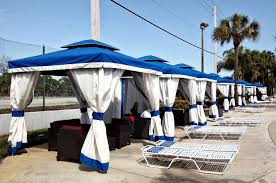 you get your own private escape. The cabanas include 10 by 10 cabana with privacy curtains, a ceiling fan, flat screen TV, ample seating, personal food and beverage service and a preferred menu, a locker and six bottles of water. The cost is $139 Monday through Friday and $169 on Saturdays, Sundays and holidays.
Lockers are available for rent. Locker rentals are $10.00 plus a $5.00 deposit fee for a small locker or $15.00 plus a $5.00 deposit for a large locker. The deposit is refunded when the locker key is returned. They also offer life jackets as well as personal flotation device at no extra charge.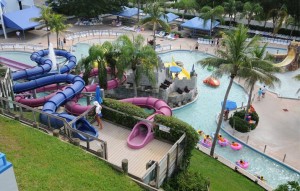 No food or drink is allowed into the park. For your enjoyment, Rapids Water Park has two full-service snack bars, The Big Surf Cafe and Pelican Bay Cafe which serves hamburgers, hot dogs, chicken tenders, sandwich wraps, salads, pizza, appetizers and desserts. Different small food stands are located throughout the park, stop by Frosty Creations for some ice cream as well as several other providing slushies, cinnamon rolls, lemonade, sno-cones, cotton candy and funnel cakes.
Parking is $15 per vehicle, Preferred parking is $20 per vehicle.
You can also purchase tickets online at a discounted rate and go right into the park.
Sunset Special tickets from 4pm to close also available at special admission rate (Memorial Day through Labor Day).
Group Discounts available.
2023 Season Pass $109.95 + Tax per person (limited time only)
General Admission (Monday to Friday) $54.99 + tax per person for ages 3 and over.
Saturday & Sunday $59.99 + tax per person.
Open 10am to 7pm.
To purchase tickets or for more information, please visit their website at:

http://www.rapidswaterpark.com
Video by Ana Maria Reyes reporter with "Visit Florida".