My visit to Dreher Park North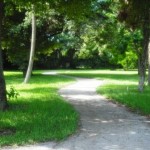 What a beautiful day to visit the park.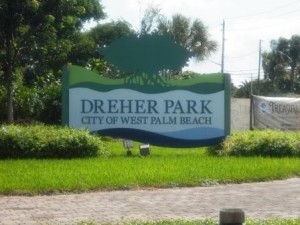 There are two entrances into Dreher Park North, you can use the entrance right across from Dreher Park South, off Summit Blvd. which takes you past the Palm Beach Zoo and then past the Science Museum or you can use the entrance off Southern Blvd. For this second entrance, you really have to slow down or you might just miss it, the sign could be more visible. Driving east, past I-95 overpass, the entrance is on your right which is my starting point.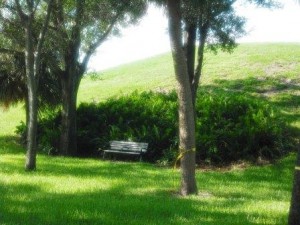 Upon entering the park,  there's a bench right at the foot of this good size grassy hill. It's nice to see that it's not all just flat area but with the small hills, makes the area more interesting and visually appealing.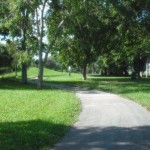 The walking path is paved and takes you all the way around the park. Around the hill, you will find a pavilion, a good size lake with a fishing pier which can be readily seen from Southern Blvd.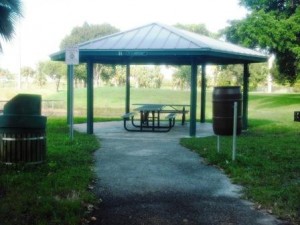 Really nicely done, the pier is well maintained and this is a great spot to do some fishing.  Of course, you can see many ducks enjoying the lake as well.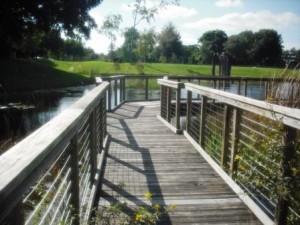 Coming back around the hill, there's this little area with pavers done in a circular path with plenty of native plants. This is the "Choko Lochi" playground. I found an interesting sign which describes the Seminole Indians way of life.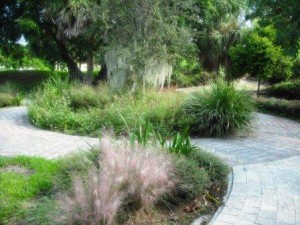 Along the path, plenty of large rocks you could use for sitting and there an area which seems to invite you to climb that hill. Also you will notice the dugout canoe displayed there which was made from a single log cut in half and then hallowed out. Apparently, the Seminole Indians still have this practice today on the Seminole Reservations.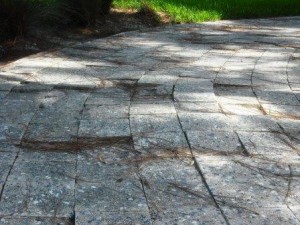 Be advised however that part of the pavers are uneven in one area and create a hazardous situation. Because of roots underneath, some of the pavers were raised up and is something that should be fixed. Especially children walking or running around could easily fall so keep an eye out and walk slowly in that area. Otherwise, that's a nice area although a little disappointed that there was no chickee hut to be found.
You will not find any slides or swings or any play structures in this side of Dreher Park. You would have to visit the Dreher Park south.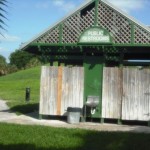 Restroom facilities and water fountains can be found walking towards the south part of this park.
There's plenty of parking areas throughout the park.
A big plus for convenience, residents who live adjacent to the park can access the park through special entryways right off the end of their street.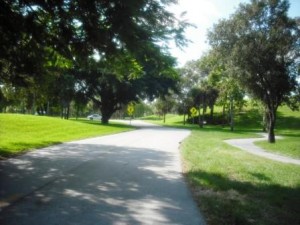 Such beautiful and peaceful walkways and such greenery all around, you can just lose track of time as you totally immerse yourself in the beauty of this park.  I noticed these beautiful trees with pink blooms.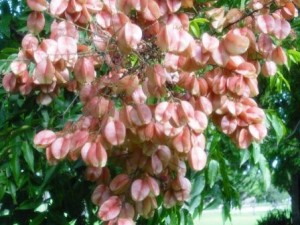 As I came closer, it really wasn't a pink flower of any kind but more like a soft pod, paperlike in texture, nothing I had seen before.  After a bit of research, I found out those trees are golden rain trees. I've seen those trees in many places in Florida, with gorgeous yellow flowers. They are hard to miss. Once the blooming is done, these seed pods appear usually red or pink in color and that was just spectacular to see.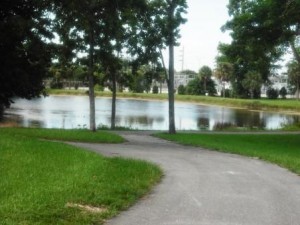 There are many connecting paths to choose from whether you want to take just a little stroll or go all out around the entire park.
Coming back around toward the front of the park, there's another lake with a couple of bridges, another fishing pier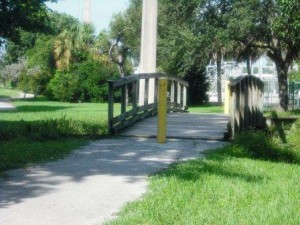 and several benches that invite you to sit and admire nature.
While looking out from one of those covered pavilion, I looked down and spotted this turtle.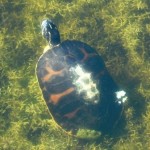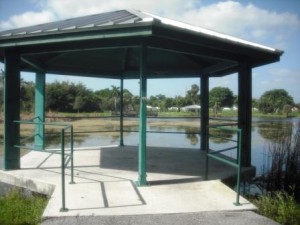 There are multiple places to take lots of amazing photos at this park. At different times of the day, especially during sunrise and sunset hours, could prove to be an occasion for some of the best photos to take and anytime there's water, it just adds to the peaceful effect. And at this park, there are lots of angles and turns to position yourself to take fabulous photos.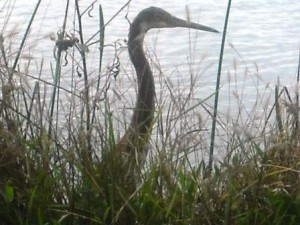 As you keep walking around, you can cross over the bridge to come back or you could keep walking all the way toward the Science Museum and the Palm Beach Zoo. Picnic pavilions are conveniently located all around the park.
The oldest part of the park has some issues with the paved walkway and there are uneven raised up areas and cracks to be watchful for. Especially if you're bicycling, be aware of this and prepare to slow down as you come across those.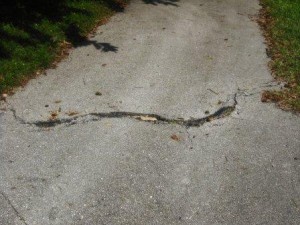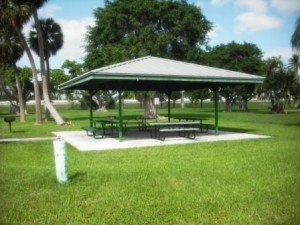 A great place to come and plan an event, a family picnic or reunion, birthday parties or any kind of gathering, the park has much to offer.
Let's remember to keep our park clean and dispose of trash in their proper containers.  This park was kept pretty clean although I did notice trash in several areas as well as on the edge of the lakes.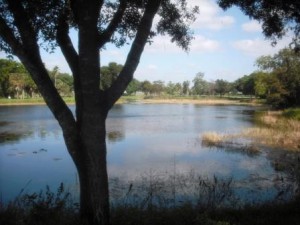 It's always important to teach our children to dispose of their trash properly, to be good steward of our environment and to show them that doing what's right benefit everyone. And for adults, showing a good example is paramount.
On the way back toward the main parking lot, there's another area with a raised wood deck where you can look out and most of the times, they have the fountain working.
And there's always the ducks and egrets surrounding the lake, just so pleasant for everyone to enjoy.
So, I guess for those who enjoy fishing more, then this side of the park would be better suited for them.  However, you do hear slightly more traffic in certain areas since this park runs parallel to I-95 and at one section of this park, you also notice the FPL distribution center. But mostly, those are not issues that would interfere with one's enjoyment of this park. If you need a large open area for soccer or playground for the kids, then the south side would be better.
Overall, this is one of our favorite parks. So, if you are new to West Palm Beach, come check out Dreher Park and you will feel like most of us who have lived here many years, that this is a beautiful place to come and unwind.