My visit to WPB Greenmarket Oct. 13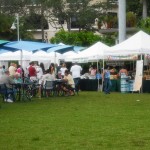 Just came back from the WPB Greenmarket. The weather was pretty good, a bit cloudy and windy but very nice.
Slowly making our way around all the vendors was very relaxed and pleasant as well as very interesting to see the variety. People from all over the area gather, many with their dogs, and we were entertained by the sound of a smooth saxophone player.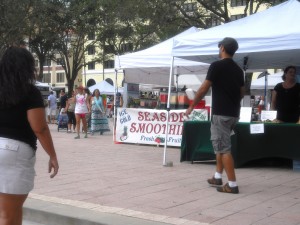 My daughter and I tried the smoothie, I had the banana/berry and she had pina colada. Very refreshing and healthy, with a good slice of pineapple on the side.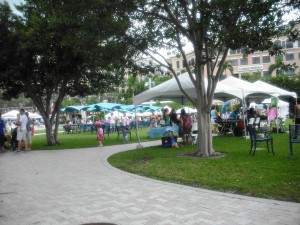 There are many tables available for people to sit, a good sized paved walkway and lots of green area.
Real good variety from fresh baked pastries and breads, gluten free muffins to all kinds of locally grown vegetables, fruits, herbs and healthy juices. Fresh roasted coffee, delicious doughnuts, beautifully decorated cupcakes, specialty sandwiches, marinara sauces, cheeses with several vendors like the Gourmet Pickle Peddler giving free samples to people.  I highly recommend the homemade rum cakes, from the GanacheBakeryCafe, we tried the Chocolate Bailey's and the Pumpkin Spice Rum, so moist and flavorful, just delicious!
Several vendors were offering beautiful flowers, and if you love orchids, there was a spectacular display of color.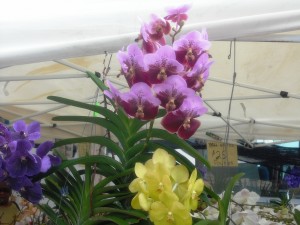 Also a great assortment of different plants for your garden.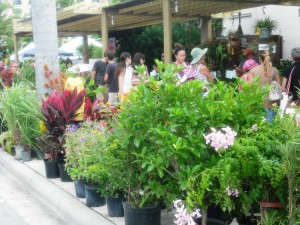 The only issue for me would be, how do I walk all the way back to my car with these plants, unless I purchase something that I can easily handle. If you live really close by and even then I would recommend some kind of cart on wheels, otherwise you would think twice before purchasing something heavy. But quite a few people were buying the orchids.
There also was an area with all sizes of pumpkins available.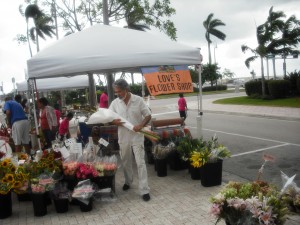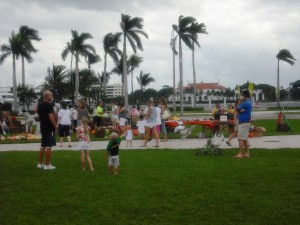 Restroom facilities are also nearby.
Walking around, we came across an area where there were homemade crafts. A beautiful display of all kinds of small to medium size pottery items, all microwave and oven safe, and we could actually see the pottery being made right in sight. Another display from the Naked Lady which offered several variety of natural soaps. She also gave us a free sample. There was a beautiful display of candles, another of different essential oils and bath salts. Something for everyone. And it's also great that you can just walk over and enjoy the beautiful view of the Intracoastal!
Overall, we had a really good time, came home with lots of fruits and goodies so if you've never been, come check it out soon and see for yourself what the WPB Greenmarket has to offer.
Open every Saturdays, from 9am to 2pm. Parking is free in the Banyan Parking Garage. For map, vendor applications and more information, please visit their website at link below: