Shark Wake Park – ultimate floating playground opening June 15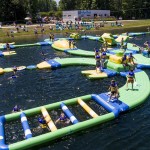 Shark Wake Park
Okeeheelee Park
7715 Forest Hill Blvd.
West Palm Beach Fl
Grand Opening Saturday, June 15th, 11am-3pm
Yes, the ultimate floating playground is here and just what the area need this hot summer season, a new and exciting fun way too cool off.
Shark Wake Park is both an Aqua Park and a Wake Park in one location at Okeeheelee Park next to Pooch Pine Dog Park.
Whether you are a beginner or a pro, the Wake Park is a fantastic way to spend a few hours or an entire day wakeboarding. No boats are used only high tech special cable system that pulls you. Everything you need is provided or you may bring your own gear.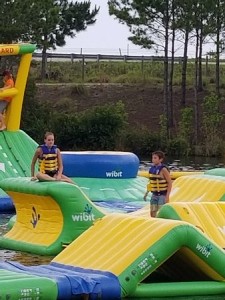 The Aqua Park is a huge inflatable floating playground featuring monkey bars, climbing towers, slides and more! Come and challenge your friends and have tons of fun on the water. This is the ultimate water obstacle course. A great way to burn calories too. Children must be at least 7 years old and 45 inches tall and know how to swim to use the Aqua Park.
Shark Shack on premises for guests to enjoy refreshments, snacks, ice cream in the shade while watching family have fun.
For rates, lessons, reservations or any information, please go to their website.
Video below gives you an idea of what to expect.