2019 Local Memorial Day Ceremonies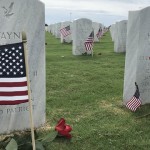 To many of us, Memorial Day is a day off, a day to enjoy with family and friends, for BBQ's, the beach and shopping. However Memorial Day is a day to remember those who have given their lives to defend our country and our freedom.  We are grateful for their sacrifices.
Monday, May 27th
South Florida National Cemetery Memorial Day Program
10 a.m.
South Florida National Cemetery
6501 S. State Road 7, Lake Worth.
Note: Placard Access ONLY on cemetery property before and during ceremony. Free parking and shuttle service to and from the cemetery, located at: Target, 5900 Lake Worth Rd, Greenacres and Winfield Solutions, 8245 US-441, Boynton Beach. Welcome Remarks & Keynote Speaker: Sonny Peppers, SFNC director; Brigadier General (BG) Cynthia O'Connell, associate director, VA Medical Center, West Palm Beach, U.S. Army (Ret.); David VanMeter, interim director, VA Medical Center, Miami; Guest Speaker, Lieutenant General (LTG) Jack Woodall, U.S. Army (Ret.). Bring water or other non-alcoholic drinks, light snack, an umbrella and fold up chair for your convenience.
14th Annual Forgotten Soldiers Outreach Memorial Day Service:
11:30 a.m.
Palm Beach Memorial Park
3691 Seacrest Blvd., Lantana.
A Day to Remember. 561-369-2933. forgottensoldiers.org. Free.
Memorial Day Ceremony
9 a.m.
Veterans Plaza Amphitheater
10500 N. Military Trail, Palm Beach Gardens.
Pay homage to our nation's fallen service members, with Fire Rescue and Police Honor Guards and a wreath ceremony. 561-630-1100.
Memorial Day Parade & Ceremony
8:15 a.m.
Forest Hill Boulevard & South Shore Boulevard, Wellington.
Veterans Memorial Wellington and the American Legion Chris Reyka Memorial Wellington Post 390. wellingtonfl.gov.