SkyBike CityPlace Bike Rental WPB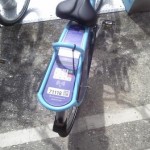 There is a brand new bike rental program in downtown West Palm Beach. SkyBike  kicked off on Saturday June 6, 2015 with many
bike enthusiasts attending the event and thanks to Mayor Jeri Muio for bringing this eco-friendly program to West Palm Beach. Many local residents welcome this bike sharing program which offer an alternative transportation mode for errands in the city as well as the multiple health benefits associated with physical activity.
Skybike's seats are adjustable to fit a wide range of rider heights however there are no children bikes in this sharing program. All bikes are identical in size and best suited for adult size persons. Teenagers could easily use these bicycles. You can throw your bags onto the front basket, strap it down and off you go.
Using SkyBike is such a great option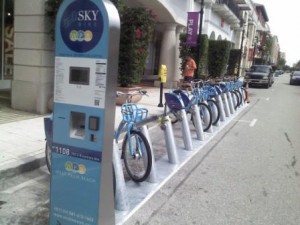 to see the city especially for visitors from out of town who wants to get a feel of the surrounding area. You can tour around the city, spend time on the waterfront and even over the bridge to Palm Beach.
SkyBike sharing program is also popular in other cities. Atlanta, San Francisco, New York City, Philadelphia, Washington DC, Los Angeles also have bike sharing programs.
You will find 12 or more docking stations in downtown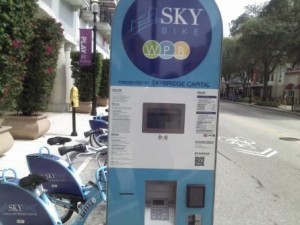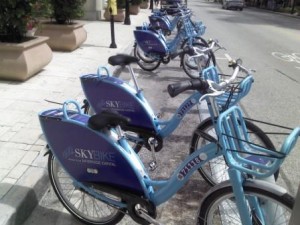 West Palm Beach each with SkyBike kiosks. Just swipe your credit card and off you go. There are 150 bicycles available 24/7 which can be rented from 30 minutes to an entire day. Flexibility is also important so rent a bike at one station and return it at a different location. Very easy and convenient way to get around West Palm Beach.
Rent a SkyBike daily, 30 minutes for $4.00, 1 hour for $6.00 or an entire day for $24.00. Monthly and annual memberships available. Click here for all prices.
For registration and all other information, please visit their website.