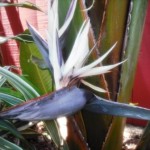 Spring is a fabulous time of year in Florida especially for those of us who just love to spend time in our garden. So let me encourage you to plant something and watch it grow. For beginners, you will find a great variety of plants that will do very well in south Florida. Pick something that will be easy to maintain and care for. Look at your yard for sunny or mostly sunny areas as most flowers need full sun. If purchasing from your local garden center, take time to read about the plant to determine if this will be a good fit for your garden area. You may feel overwhelmed by the choices out there so perhaps a couple of large pots filled with annuals or perennials would be more your style. Flowers can be placed in the front entrance and a beautiful way to greet visitors to your home.
To watch your garden being transformed little by little into a beautiful place is so rewarding. And you will attract several species of butterflies that will linger around and bring a smile on your face. Here is a few plants and flowers from my garden, Giant Bird of Paradise, Gardenia, Jatropha and Ixora.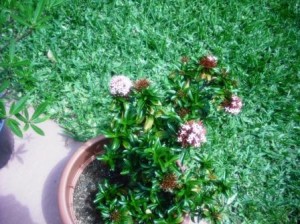 Do be careful if you have small children and always check for plant toxicity. Certain plants and flowers may cause irritation to children, others may actually have toxic parts so always choose carefully.  The same goes for your pets. The caladium and oleanders are very common in Florida gardens both of which have toxic parts.
There is an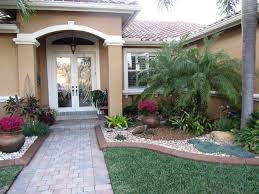 abundance of beautiful gardens here in south Florida. Many homeowners really take pride in their homes. Landscaping your front yard to look pleasant and inviting has many benefits not only for yourself but for neighbors as well. And should you ever decide to put your home on the market, a great curb appeal will definitely pay off. Beautifully landscaped front lawn with shrubs, trees and flowers can make potential buyers just fall in love with your home.
So go ahead this season and enhance your yard with vibrant and colorful flowers. Bring interest to your garden. You may find that gardening will become your new hobby.