Christmas Tree Lighting Events WPB area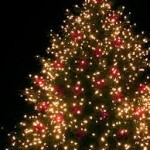 There are many ways to enjoy the Holiday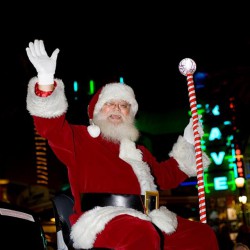 Season in South Florida. Attending a Christmas Tree Lighting event is often at the top of the list. As a family tradition, it's always an experience to cherish with the ones you love. Here is a list of places in West Palm Beach and surrounding areas to welcome the Holiday Season with Christmas trees adorned with twinking lights, spectacular displays, musical performances and the arrival of Santa Claus bringing excitement and joy to everyone.

_______________________________________________________
WEST PALM BEACH
Holidays around the World at CityPlace
Christmas Tree Lighting Saturday Nov. 12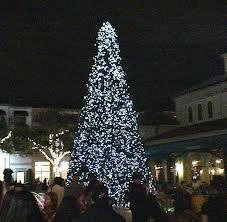 Family Fun starts at 3pm
Musical Performance 6pm
Christmas Tree Lighting 6pm
Snowfall
Enjoy the music, lights and cheerful atmosphere of the holiday season. Come be part of the festivities as CityPlace is transformed for the annual lighting of the 40-foot Christmas tree beautifully decorated with more than 10,000 lights and 2,000 poinsiettas. Florida residents and visitors alike can look forward to a memorable snowfall experience done south Florida style.
Free Family Fun Fest
Sunday Dec. 11, 1pm to 4pm
Bring the family to CityPlace for a day of fun activities including bounce house, games, meet and greet cartoon characters, mini train rides and holiday musical performances.
Sandi – Holiday Sand Tree Sculpture
Tree Lighting Thursday, December 1
101 S. Flagler Drive
West Palm Beach
Every year, thousands of visitors look forward to this uniquely South Florida tropical-theme display featuring Sandi,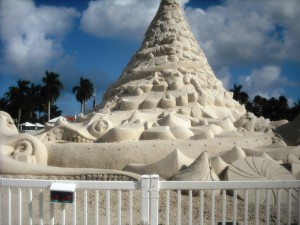 the world's only 35-foot Christmas tree. Made of 600 tons of sand, sculpted and decorated with over 5000 lights, Sandi is the centerpiece of the "Holiday in Paradise".  The lighting kicks off the month-long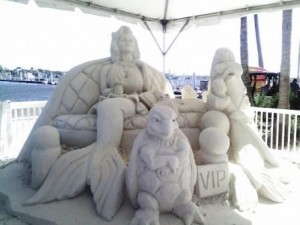 Sandi Land celebration. Guests can see four 25-ton sand sculptures surrounding Sandi the tree, play a round of nine-hole Peppermint Putt-putt mini golf, and create their own Florida-style snowmen. Light shows will repeat nightly on the quarter hour, from 6:30 p.m. to 10:00 p.m., through Jan. 1, 2017 in West Palm Beach, Florida.
______________________________________________________
Holiday Fantasy of Lights
Tradewinds Park
3600 W Sample Road
Coconut Creek Fl 33073
Sample Road & Florida Turnpike
Fri. Nov. 18 tru Mon. Jan. 2
Open nightly 6pm to 10pm including including Thanksgiving, Christmas Eve, Christmas Day, New Year's Eve and New Year's Day.
Admission: $15 per car
Tradewinds Park is once again a fantasy of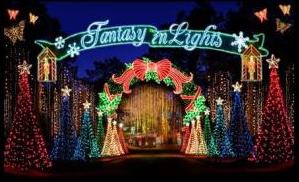 color, lights and design this holiday season. Visible from the Florida Turnpike, The Holiday Fantasy of Lights, Broward County's spectacular drive-thru holiday lighting event is returning to Coconut Creek for 2016.
The 22nd edition of the Holiday Fantasy of Lights, with 3 miles of giant animated holiday displays and illuminated trees, is larger than ever blending the favorites of the past and the excitement of new creations by Brandano Displays. Extremely popular, attracting crowds over 150,000 visitors of all ages in 35,000 cars, trucks, motor homes and buses.
The Holiday Fantasy of Lights presents exciting sponsorship and marketing opportunities for regional businesses that can show their public appreciation by bringing this exciting holiday event back to South Florida.
For more info, click here.
_____________________________________________________
Hoffmans Winter Wonderland
5190 Lake Worth Road
Lake Worth Fl
Nov. 19 to Dec. 30
6 to 10 p.m. nightly
Hanukkah Celebration Dec. 8th
Walk through the garden and enjoy all the brilliant lights surrounding you. Delightful exhibit kids will love with a spectacular manger scene, a 6-foot lighted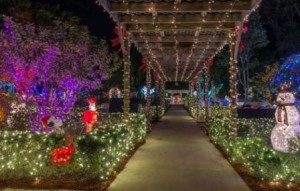 Hanukkah Menorah, animated holiday displays including a beautiful gazebo, cascading fountains, renovated pond, and an arctic zone with lighted polar bears and penguins. A 14-foot Christmas Tree stands in front of the store where you can stop in for delicious chocolates and heavenly treats. Santa Claus and Mrs. Claus arrive every Friday, Saturday and Sunday at 6 p.m.
For more information, please click here
_____________________________________________________
Flagler Museum
Christmas Tree Lighting
Sunday, December 4, 2016
3:00 pm to 5:00 pm
Free with museum admission
will hold its lighting ceremony with festivities including Santa Claus, piano and organ performances, holiday caroling in the courtyard, with the Christmas Tree lighting at 4:55 pm.
Whitehall's first floor is decorated in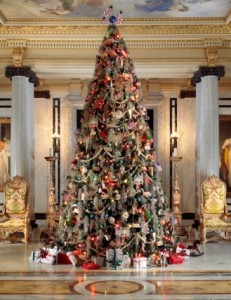 traditional Gilded Age splendor for the month of December each year. The focal point is a 16-foot tall Christmas Tree in the Grand Hall, adorned with colored electrical lights and traditional Gilded Age style ornaments. Bring your family and experience holiday traditions like the Annual Tree Lighting where you can meet Santa Claus, enjoy refreshments, hear music on the historic organ and watch as Henry Flagler's youngest descendants light the Grand Hall Christmas Tree. During Holiday Evening Tours, families tour Whitehall after hours by the glow of the original light fixtures, and learn the origins of American Christmas traditions.
Click here for more information.
_____________________________________________________
The Boynton Beach 45th Annual Holiday Tree Lighting
129 East Ocean Avenue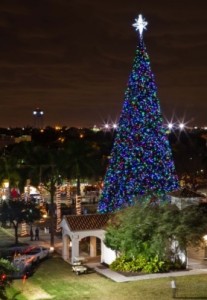 Boynton Beach, Fl
Friday, December 2

Holiday 2016 celebrates the season Friday, December 2nd at 5:30 pm as this tradition continues for the 46th year to provide a magical experience for the entire family. The tree lighting ceremony of Boynton's 50-foot Christmas tree will light up at 6:30 pm followed by a concert. Holiday photo op with Santa, children activities, holiday vendors for gifts and food & beverage vendors will be available.
For more info click here
______________________________________________________
Lake Worth
Cultural Plaza
414 lake Avenue
Lake Worth Fl 33460
Holiday Tribute Concert
Friday, Dec. 16, 6-10 pm
Tree Lighting Ceremony and Evening on the Avenues
Lake Worth Christmas Parade
Saturday, Dec. 17
Come celebrate as Lake Worth is scheduled to host its annual Holiday Tree Lighting Ceremony from 6 to 10 pm at the Cultural Plaza. There will be caroling, performances by Downtown Dance, photos with Santa, face painting, food and much more. More than 5,000 spectators line the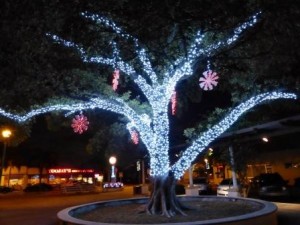 downtown streets of Lake Worth, for the city's annual holiday parade. Featuring floats, antique cars, marching bands, twirlers and other performance groups, the annual event promises plenty of family friendly fun, says Juan Ruiz, the city's leisure services director.
"It's probably our biggest event that provides a community bonding opportunity for everyone to come out and celebrate the holidays," he said. "Parades in Lake Worth are really popular. They love parades in our town."
_____________________________________________________
Old School Square
Christmas Tree Lighting
51 N Swinton Ave,
Delray Beach, FL 33444
Thursday Dec. 1,  5 to 9 pm
The Delray Beach 100ft Christmas Tree Lighting Ceremony is one of the largest and most celebrated holiday events in Palm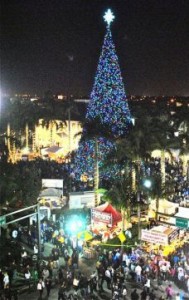 Beach County. Festivities begin at 5pm with kid's performances from local schools on the main stage. Activities include: "Ice-Skating", Kids Train Ride, Carousel, & Puttn' Around Mini-Golf Course. Be sure to visit all of our sponsor and vendors set up along Atlantic Avenue & along NE 2nd in Pineapple Grove. Santa will arrive to light the 100ft. Christmas Tree at 7:15pm. Directly following the Tree Lighting Santa will be available for photos in his key-west style cottage next to the 100ft. Tree! The event is free but activities have a nominal fee. Info here for website
_____________________________________________________
Palm Beach Gardens
Christmas Tree Lighting Festival
Wednesday, December 7, 2016
6:00 – 8:00 pm
Burns Road Recreation Center
4404 Burns Road, Palm Beach Gardens, 33410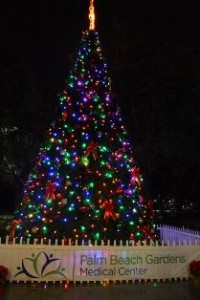 The Christmas Tree Lighting Festival is a family-oriented event celebrating the holiday season, featuring:
Lighting of the Christmas tree
Live entertainment
Santa's Village on the trail
Children's games and activities
A special visit from Santa and Mrs. Claus!
Food, drinks and snacks are available for purchase.
for more info click here
________________________________________________________
Palm Beach
Christmas Tree Lighting
November 29, 6 to 8 pm
Hibiscus Plaza
Parade 6pm
Christmas Tree Lighting 6:30pm
Led by Santa Clause, his elves, and entertainers,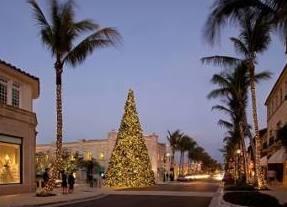 The Worth Avenue Association and Palm Beach Mayor, Gail Coniglio, welcome the holiday season with an annual parade that concludes with the signature, spectacular Christmas Tree Lighting Event, signifying the unofficial start of Palm Beach's magical shopping season. The parade begins at 6pm, with the flip of the switch that lights the magnificent 40-foot tree happening at 6:29pm. Make sure to get there early and queue up the little tykes for a turn on Santa's magical throne.
_______________________________________________________