Christmas Tree Lighting Events WPB area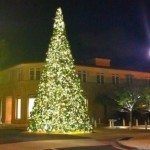 With every passing year, we not only look forward to something new, but also for the traditions we have been accustomed to for our entire life, a place to gather with family, a place that fills our hearts with joy. Whether you are new to South Florida or have lived here several years, West Palm Beach area has so much to offer. So take a look, gather your loved ones and make plans to attend one or several of these fun holiday happenings.
Sandi Christmas Tree
Holiday in Paradise
December 1 – December 31
101 S. Clematis Street, WPB (on waterfront)
Lighting Ceremony Dec. 1
Ferris Wheel from 6pm to 10pm (small fee applies)

This is the 11th year for Sandi, built entirely from sand reaching 35 feet. Enjoy the lively music, water fountains and light shows. Something new this year is the addition of Ferris Big Wheel where visitors can take pictures and videos from high in the sky. Should be a lot of fun for everyone!
Holiday in Paradise information
________________________________________________________
The Square
700 S. Rosemary Avenue, WPB
Weekend photos with Santa
Friday, Saturday (6 – 8pm) and Sunday (5 – 7pm)
Nov. 12 to Dec. 23

Nightly Snowfall & Light Show
Snowfall every night at 6:30, 7:30 & 8:30pm
Christ Fellowship Christmas Concert
December 21
6 to 8:30 pm (on the lawn)
Christmas Day Live Music
Sunday Dec. 25th from 6 to 10pm
________________________________________________________
Whitehall Christmas Tree Lighting
1 Whitehall Way, Palm Beach
December 4th, 12pm to 5pm
Free with Flagler Museum Admission
16 foot Grand Hall Christmas Tree lighting, Santa Claus, festive music, choir performance and refreshments will be served, Museum Store will be open for shopping.

Whitehall Holiday Evening Tour
December 19-22
Tours begin at 6:30 pm
$50 Adults, $30 Children
Flagler Museum information
__________________________________________________________
Palm Beach Holiday Boat Parade
Saturday, December 3
6pm to 8pm
Starts with fireworks display, the Parade leaves from North Palm Beach to Jupiter Lighthouse
Always great opportunity to donate to the 2022 Toy Drive
Palm Beach Boat Parade information
_________________________________________________________

Boynton Holiday Boat Parade
December 9, 6:30pm
Boynton Harbor Marina
735 Casa Loma Blvd
Boynton Beach, Fl
Always very popular, privately owned and commercial boats all wonderfully decorated with holiday lights, navigate south on the Intracoastal, also visit with Santa, children's activities and lots of festive music.
Boynton Boat Parade information
__________________________________________________________
Zoo Lights
Palm Beach Zoo
Every Friday, Saturday and Sunday until Jan. 1st
Starting Friday Nov. 18
6pm to 9pm
Tickets purchase online only
The Zoo will be illuminated with unique themed displays throughout the entire 23 acres. The festive holiday fun also features photos with Santa (until Dec. 23rd), a DJ holiday dance party, seasonal treats and more!
Zoo Lights Tickets Information
__________________________________________________________
Delray Beach 100 Foot Tree Lighting
Tuesday, Nov. 29 at 6 to 9pm
Enjoy holiday festivities, delicious food, musical performances, crafts, and many more holiday surprises for the 100 Foot Christmas Tree lighting, a beloved Delray Beach tradition dating back to 1993.
Delray Christmas Tree information
__________________________________________________________