PBIA Travel Plaza – New Cell Phone Lot Waiting Area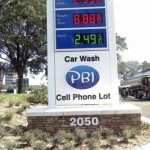 Located across the street from the old cell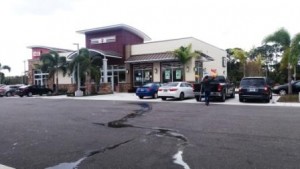 phone parking lot area, the brand new much anticipated PBIA Travel Plaza has finally opened. The new convenience plaza is located at 2050 Belvedere Road just west of Australian Avenue. Its aim is to make the cellphone waiting area more inviting and enjoyable. Now people waiting will be much more comfortable with a place to eat, relax and use the restrooms. Water fountains and restrooms located in the area connecting both 7-Eleven and Dunkin Donuts store.
Feeling hungry or thirsty, grab a bite to eat at either the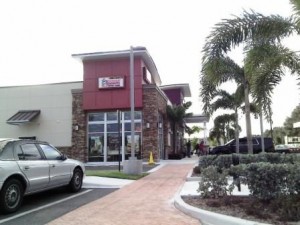 Dunkin Donuts with a drive-through or the 7-Eleven convenience store. Cell phone charging stations are available inside the 7-Eleven as well as a real time arrivals/departure board with Wireless internet for people waiting for passengers. The board is in the back of the store near the Florida Lottery table.
The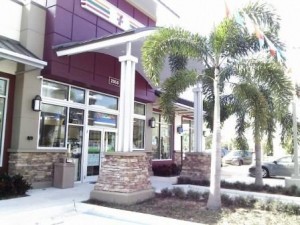 new PBIA cell phone lot features 85 parking spaces, a car wash, 2 electric car charging stations and a Mobil gas station. Not only does the new cell phone plaza look great but it is much easier now for everyone with easy access to the airport roads and ramps.