Holiday Tree Lighting Sand Sculpture 2013 – Clematis by Night
Everyone is invited this Thursday, Dec. 5, 2013 at Clematis by Night to watch the lighting of the Holiday sand tree "Sandi". This is an amazing 35-foot tall, 600-ton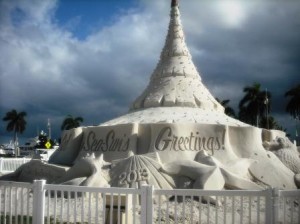 sand sculpture that will be showcased with synchronized sound and light show.
This is an annual event on WPB Waterfront showcasing different sand sculptures every year.
Last time to see the sand sculpture is New Year's Eve, December 31, 2013.
Beside the largest sand sculpture, you can also view four 25-foot sand sculptures located on the Waterfront. Although much smaller, they are very whimsical and kids will probably love these even more.
Plenty of photo opportunities and fun for the entire family.
Santa will be available from 6 to 8 pm. Come enjoy country singer Randy Houser who will perform live. The free event runs from 6 to 9 p.m.Thursday, Dec. 5th.
If you cannot make it to the show on the first night, Sandi's synchronized sound-and-light shows will also take place nightly through December from 7:30 to 9:30 pm on the half hour.
Dec. 12: Starting on this date, holiday revelers can enjoy Dolphin Golfin', a putt-putt course set up near Sandi sculpture. A nine-hole round of golf is $2.50
Dec. 13: Screen on the Green double feature: "The Smurfs Christmas Special" at 7 p.m. and "Polar Express" at 8 p.m.
Dec. 15: The Aloha Islanders present a Polynesian song-and-dance show at 3 p.m.
Dec. 19: Ringling Bros. and Barnum & Bailey will return to Clematis by Night for a free 30-minute preview of their holiday show, which will take place Dec. 25-29 at the Palm Beach County Convention Center.
All Sand & Sea-Sun Greetings events are free and open to the public.
Thanks to all the organizers, this year is expecting to be one of the very best Holiday Season. So come with family and friends this Christmas season to enjoy all that West Palm Beach has to offer. We may not have snow….but we have Sand and Sea!
See how Sandtastic team put this together in only 8 days ….watch video below!