FARMERgreensMARKET – indoor Greenmarket in WPB
With the start of a new year, many people are looking for ways to improve their overall health. One of the easiest way is to start eating more whole food. Changing one's diet to include more fresh fruits and vegetables makes so much sense. Start slowly perhaps adding just 1 extra fruit a day until you eat the recommended daily allowance. The recent news that the DASH (Dietary Approaches to Stop Hypertension) diet was best overall indicates that more and more people are choosing to eat healthier using less sodium. Many people enjoy the convenience of shopping at greenmarkets.
There are several local greenmarkets in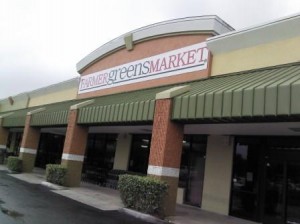 West Palm Beach area to choose from offering fresh produce at really good prices.
Very popular with locals in the area, FARMERgreensMARKET offers a great selection of fresh fruits, vegetables, beans, ready-made sandwiches and salads as well as a small dairy section. Shopping carts located right in front of the store. You will not find any produce outdoors at this market.  With lots of cashiers, fast and efficient service, you will be in and out in no time. They also accept credit/debit cards for payment.
FARMERgreensMARKET
1937 N. Military Trail
Pine Trail Square shopping center
West Palm Beach, Fl 33409
(561) 683-2400
Open 7 days a week
Mon-Sat. from 8am to7pm
Sunday 8am-6pm