Dr. Martin Luther King events in WPB area Jan 20, 2014
This year, America will mark the 85th birthday of Dr. Martin Luther King Jr. on Monday, January 20. Dr. King, who advocated change through nonviolence,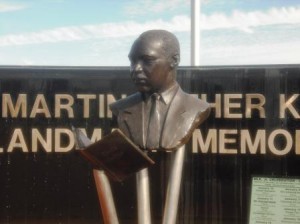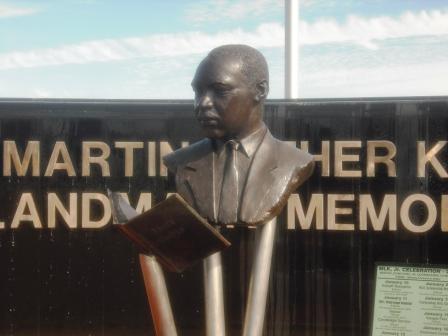 was awarded the Nobel Peace Prize at 35. He was born on Jan. 15, 1929 in Atlanta, Georgia and assassinated on April 4, 1968.
Here in West Palm Beach , you can stop by and visit the MLK Landmark Memorial right off Flagler Drive adjacent to Currie Park.
There are a variety of events locally planned to celebrate his legacy.
Riviera Beach MLK Jr. Parade
11 a.m. Saturday
Corner of Congress and Blue Heron Blvd.
845-4000
Interfaith Prayer Breakfast
7:30 to 9 a.m. Monday
St. Andrew's Lutheran Church
928 South E Street
Lake Worth
Candlelight March on Monday at 5 p.m.
Downtown Lake Worth
Participants gather at City Hall and parade down Lake Avenue to the MLK "Ball" memorial.
586-7276
Annual MLK Jr. Breakfast
Monday 8 a.m.
Palm Beach County Convention Center
650 Okeechobee Blvd,
West Palm Beach
832-4682
Photos below from MLK Landmark Memorial in WPB. Parking right off Flagler Drive or nearby Currie Park and walk up to the MLK memorial. Benches and picnic tables in front, bust of Dr. King in the center with cascading water as a backdrop. You can walk behind the curved wall and read quotes from Dr. King's life. Relax with the beautiful views of the Intracoastal.