Drive Shack opening soon in West Palm Beach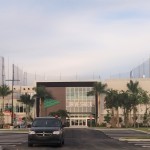 DRIVE SHACK
1710 Belvedere Road
West Palm Beach, Fl 33406
561-771-5354
OPENING FRIDAY, OCTOBER 18, 9AM
Yes, it's almost completely done and work progressed quite fast for this type of facility. Parking lot has been paved and landscaping looks fabulous. Sign installed on the front of building announcing to everyone that Drive Shack will open soon. It's impossible not to notice the heights of the posts and the netting reaching heights of 160 feet but no worry, it's actually been designed this way for maximum safety.
Drive Shack's location is fantastic close to the airport and I-95 so travelers can easily spot this fabulous entertainment venue. Drive Shack recently opened its first location in Orlando and the West Palm Beach facility is the second location sitting on airport property. This golf entertainment complex is such a great addition to the West Palm Beach area and adds tremendous value and opportunity not only for jobs but also as a way to bring more visitors to vacation here.
Drive Shack facility is a $30 million, fully interactive golf driving range as well as entertainment center. With a choice of three different floors to launch golf balls, it has a special "TrackMan" technology that can track your golf balls as you hit it into the field. Customers have free use of custom made golf clubs.
Third floor will offer games and arcades and an indoor/outdoor terrace with a bar and food where you can meet with friends for a great time. A Conference room also on the third floor so it's a fabulous place to hold an event or a business meeting in a more relaxed setting.
Membership is required to play golf. One time fee of $5.00 for the initial card that can be used every time you return. Drive Shack is both for pros and beginners alike offering lessons and clinics.
With 90 all weather hitting bays available, interactive games and courses, lively atmosphere and music, and affordable menu with great selection of delicious food, you can spend hours having tons of fun.
For more information, you can check out their website here.