Street Painting Festival in Lake Worth – Feb. 23-24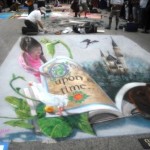 When February is here, locals know it's time to check out the Lake Worth Street Painting Festival. It's hard to believe but it's already been 25 years since its inception. The streets of downtown Lake Worth will be closed to traffic for the unveiling of truly spectacular work of art done by hand using simple chalks onto asphalt. A lot of planning goes into this where talented local and visiting artists transform the streets of Lake Worth into canvas displaying amazing painting.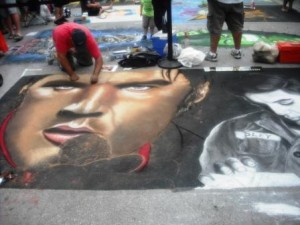 This coming weekend February 23 and 24 you can make your plans to attend this awesome event. Most people know what to expect by now although parking can be an issue at times. Here are some info to help out.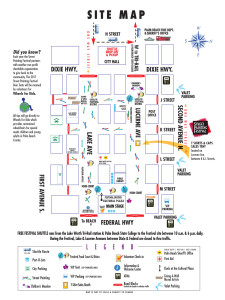 Parking:
Park at Palm Beach State College and designated Festival shuttles will transport visitors to the Festival area from 10 AM to 6 PM both days for free.
Ride Tri-Rail and get free shuttle to and from downtown Lake Worth.
Several Lake Worth areas offer Pay-Park-And-Walk Lots are available throughout the downtown area.
Free parking available on side streets however you may have to walk several blocks depending on the time of day so be prepared.
Food:
The Festival's main Food Court & Bistro is located at the Cultural Plaza on M Street between Lake and Lucerne Avenue adjacent to the Main Stage with continuous live music from Noon to closing.
The Festival Satellite Bistro is located on Lucerne Avenue & J Street where you can grab a bite or a cold beer and enjoy live music between 12 and 5 PM both days.
Lake Worth offers multiple restaurants as well as food carts throughout the area.
Security and First Aid:
The First Aid Station located on North L Street and Lake Avenue. Palm Beach County Sheriffs and Palm Beach County Fire Department will be on hand for any need.
Pets:
No ordinance bans pets at the Festival however it is strongly discouraged since it is very hot, and the crowds are very large.
Live Music:
Starting at noon on both days, you can enjoy live music on the mainstage at the Cultural Plaza. Several bands and artist will perform pop, jazz, drum, brazilian for your enjoyment.
Volunteer:
Needed especially on Friday to set up and Sunday evening for take down. Many other volunteer opportunities are available and is truly appreciated.
For more information, please visit