Sandi Christmas Tree Lighting WPB Waterfront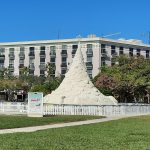 101 South Flagler Drive
West Palm Beach (on waterfront)
Visitors and locals alike look forward to this yearly event and 2021 is the 10th year for this famous one-of-a-kind Christmas Tree. A lot of work and planning goes into making Sandi this beautiful tropical-theme work of art. Using 700 tons of sand, the work starts middle of November with truckloads of sand from Miami area delivered to the site, plans for lightings are made and a team of 7 artists from the west coast of Florida begin sculpting this enormous Christmas Tree. A special spray is applied when the work is done to prevent any weather damage and to keep Sandi looking its very best.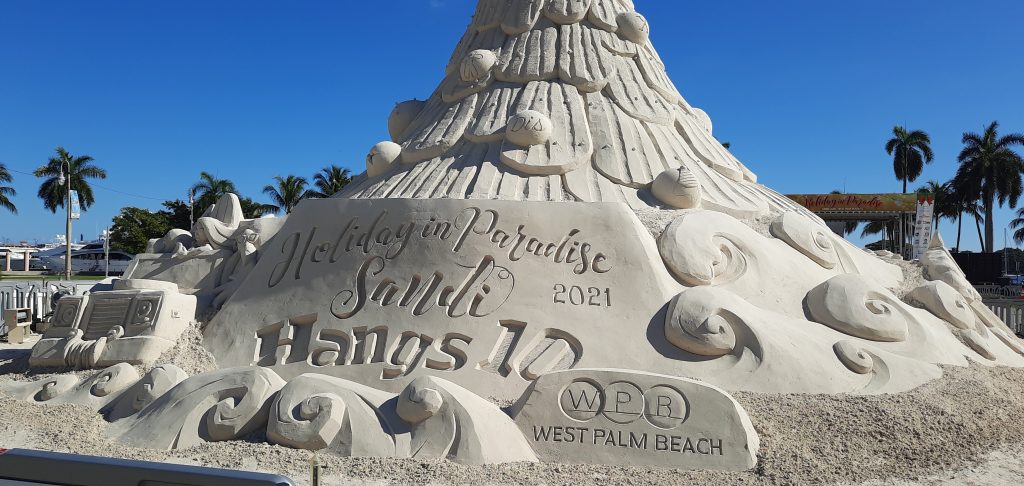 Along with Sandi's Lighting Ceremony there will be lots of activities in Sandi Land for the whole family. So make plans this year to come visit this always popular Holiday in Paradise.
Holiday Tree Lighting 
Thursday December 2 from 6:00 to 9:00 p.m.
Sandi, the 35-foot, 700-ton holiday sand tree and star of the City of West Palm Beach's Holiday in Paradise, turns 10 this season. In order to properly celebrate her double-digit birthday, the City is bringing back its annual Clematis by Night Holiday Tree Lighting, complete with a national act. Country music star Brooke Eden will headline the event on the West Palm Beach waterfront (100 N. Clematis Street).
Nightly Light Shows
December 2 – 31
Sandi's world-famous light shows run from 6-10 PM on the quarter hour. See Sandi, Frankie the Fountain and their friends come to life nightly during music and light shows! Don't miss the other four sculptures celebrating the sea-sun on Flagler Drive, my favorite is Sandi's dog Duke. Show times subject to change during special events.(100 N. Clematis Street).
Santa at Sandi
December 2, 10 & 18
Santa – and kids looking to share their annual wish lists – will be safely distanced from each other, with Santa tucked inside a snow globe. Children and families can stand outside of the globe for photos. Visits with Santa are free, and families are welcome to take pictures with their mobile phones.
Visit Santa Times:
Thursday, December 2
6:00 to 9:00 p.m. at Sandi's tree lighting and 10th birthday celebration.
Friday, December 10
6:00 to 9:00 p.m. immediately following Sandi's Story Time
TEE-ki Time Mini Golf
Thursdays – Sundays in December from 6-9 p.m.
Located in the North Clematis Trellis (north side of the Great Lawn). Visit the WPB Tiki for snacks and to purchase a game of golf.
Sandi' s Story Time
December 10 at 6 p.m.
Families are welcome to gather at the foot of the Sandi tree for an unforgettable experience, as Santi sings along and reads aloud. The event is free (100 N. Clematis Street). Santa will appear in his snow globe immediately following at 6 p.m.
Sandi's Pancake Breakfast
December 18 from 9 – 11 a.m.
This third annual activity features a $6 per person (plus processing fee) pancake breakfast. Tables will be appropriately spaced and CDC guidelines followed. Breakfast attendees will also have private access to photos with Santa in his snow globe (100 N. Clematis Street).
Last Chance to See Sandi! 
December 31 from 6 p.m. – midnight 
You and Sandi on New Year's Eve? Mer-maid for each other! Come 'wave' goodbye and catch Sandi's final shows running through midnight.