Are dog parks safe for puppies?
Many of our local parks have a special designated area for dogs to roam freely. There are many pros and cons to these off-leash dog parks, so it helps to do a bit of research ahead of time if you are planning on taking your puppy to the dog park.
First of all, have you introduced your puppy to dogs in your neighborhood or other family member's dogs. You can gain a better perspective when you see how he responds to other dogs and then you can determine if he is ready for his first dog park experience.
1. Visit the dog park ahead of time without your puppy and observe the dogs and their behaviors.
2. Always look up park rules and regulations.
3. Make sure your puppy has received all his shots (14 weeks).
4. Is the park well maintained with working water faucets.
5. Is there area for both small and large dogs.
6. Is there sufficient benches and shade trees around.
Most important, you should only take your puppy after he's received all his vaccinations which usually occurs after 4 months of age. Once you get to the dog park, look around and observe how many dogs there are and if they all seem to have fun playing together.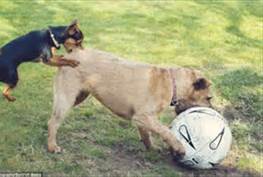 Use common sense, if you feel that this is not the right place for your puppy, go to another park or wait until he's older.
Definitely use the "small dog" area if available and if all looks good, then go in and unleash your puppy. Carefully observe his body language and how he responds to other dogs. You can encourage him to run around and play however be alert for signs of aggression from other dogs…(snarling or growling). Always keep an eye on your puppy as it is up to you to keep him safe.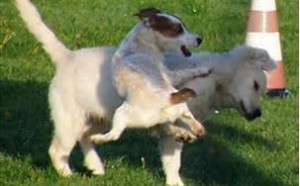 Your puppy should know some basic obedience training especially recall, if a situation occurs, he needs to come to you when called.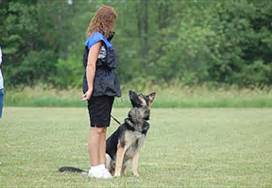 Some dogs get along great with other canines while some dogs prefer to explore on their own. So get to know your dog and help him with socialization while still a puppy. This will help him become well mannered and adaptable in all situations and around all kinds of people.
So most dog parks are safe for 4 months old puppies and older. However you are the best judge as to which park to visit and which one to stay away from. Perhaps you can visit the park when it is not very busy for the first few months until your puppy gets more comfortable with his surroundings.